Sign Up for SPDEcon Updates
Storage Plumbing and Data Engineering Conference
By experts, for experts (and those who want to be...)
June 10-12, 2013, Hyatt Regency Santa Clara, Santa Clara, CA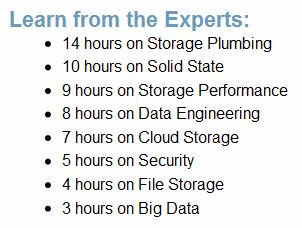 Don't miss this great learning opportunity!
Register TODAY! Don't miss the savings deadline!
SNIA's new storage industry event, the Storage Plumbing and Data Engineering Conference (SPDEcon, pronounced "Speedy-con"), is targeted for "hardcore" storage development and data engineering experts whose positions may involve configuring, integrating, and supporting storage and data management solutions – often referred to as the "storage plumbing."
SPDEcon offers an intimate, tight-knit, industry-unique, vendor-neutral learning experience whether you are a vendor employee, systems engineer, sysadmin, reseller, systems integrator, or technical consultant working in this area. Participate if you are part of that highly specialized "techno-geek" squad for any company, organization or department where these skills are expected of you.
Sessions provide a deep-dive into key technical details of storage and data management and the know–how to further advance solutions, increase acceptability and interoperability in production environments, and the help to understand where "storage plumbing" technologies are heading.
Featured Speakers



Randy Bias
Co-founder and CTO
Cloudscaling

State of the Stack

OpenStack is the fastest growing open source movement in history, but its marketing momentum has largely outrun its technology growth. Why are organizations so eager to embrace OpenStack? Some components – like Swift – are ready for prime time. But others – like Horizon and Quantum – are still evolving.

What needs the most attention: networking, storage, compute, or something else? Where are the reference architectures and real world deployments? How are different product and service companies implementing OpenStack in production today? We'll go beyond the hype and dig deep on OpenStack, exploring all that is great and all that needs serious work. Attendees will leave with a firsthand account of the State of the Stack, ready to help their organizations embrace OpenStack




Rich Petersen
Director Software Marketing,
SanDisk

Enterprise Flash and Virtualization: Choosing Your Path

Among the benefits of enterprise flash, its ability to improve the performance and scalability of virtual computing environments is paramount. A plethora of solutions have appeared in the market, and among the success stories we have learned that applying flash to virtualization is not a "one size fits all" proposition. The challenge for the IT strategist is to understand the advantages flash provides in different types of implementations, and to asses options in terms of the organization's specific requirements. Additionally, rather than seeing different types of flash implementations as mutually exclusive, it's important to recognize complementary opportunities and focus on the fundamentals of IO efficiency in virtualization platforms.




Gilles Chekroun
Distinguished Systems Engineer,
Cisco Systems Belgium

The New European Data Protection Regulation - Why You Should Care

The European Commission is undertaking a major effort to try and harmonise the data privacy protection rules across all 27 EU members. This proposal includes some significant changes like defining a data breach, adding the right to be forgotten, appointing a Data Protection Officer for large companies, and many other new elements. Another major change is a shift from a directive to a regulation and include significant financial penalties for infractions.




Stacy Schwarz-Gardner
Strategic Technical Architect
Spectra Logic

Active Archive Strategies and Media Choices for Long Term Data Retention

Data growth and global data access have forced organizations to rethink how they manage data life cycle. Data management cloud platforms leveraging active archive technologies and principles are designed for data access, scalability, and long-term data management regardless of the storage medium utilized. Tiered storage is just one element of a data management cloud. Active archive principles enable data life cycle management across tier and location while enforcing retention and other compliance attributes. Choosing the appropriate media type for long-term storage of data assets based on access profile and criticality to the organization will be key for future proofing data management strategies.




David Casper
Executive Director,
UBS

Open Data Center Alliance: Smooth Scaling

With the relentless growth of digital data, a unified voice on requirements is needed for rapid adoption of efficient, innovative and adoptable storage solutions. This talk will explore current real-world storage trends and opportunities in large, global enterprises, as seen through the lens of the Open Data Center Alliance, a nearly 400-member group of IT Managers that has come together to help shape the evolution of the data center.
Sponsors of the 2013 Storage Plumbing and Data Engineering Conference Include:
Premier Sponsors

Contributing Sponsors

Association Sponsors

Association Partners